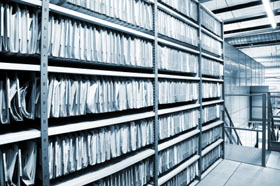 BarnAllen's experienced Records Managers will assist you in developing and implementing a full life-cycle records management solution. We operate file rooms, manage personnel files, and provide Certified Records Managers (CRM) to develop or improve enterprise-wide records management programs and perform cradle to grave records management services, all in compliance with NARA and other agency directives.
Many customers choose to convert large paper collections to digital formats to save space, create secure backup and data redundancy, and facilitate retrieval from multiple locations.
BarnAllen offers the following records management services:
Manage and operate agency file rooms and records centers
Document Conversion
Document Scanning / Imaging
Personnel Records Management
Indexing
Document Preparation
File Retention / Disposition
NARA / FRC Compliance
Records Inventories
Create File Plans
Write and modify records schedules
Draft records management procedures
Set up vital records programs
We provide consulting services on a wide range of records management topics, including electronic systems, electronic records management, and records program design and development.