BarnAllen offers its clients a broad range of library services built upon the solid foundation of BarnAllen's management framework and corporate resource infrastructure. We perform these services both as individual projects undertaken for clients who have library operations and management needs and as parts of broader-based information management efforts where the library operation may be one component of a larger effort where BarnAllen integrates multiple types of services. We can provide our clients both with operations services and with management planning functions.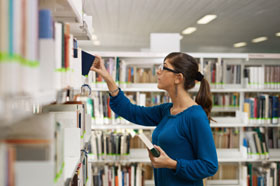 The services that BarnAllen performs ensure that library users are able to locate and use holdings efficiently and effectively. These holdings may be in traditional, physical forms (ranging from books, serials and periodicals to audio tapes and music scores). Our capabilities in this area fall into two distinct areas.
BarnAllen provides our clients with operational services that focus on supporting day to day library functioning. These services include:
Acquisitions support
Document processing
Metadata capture
Collection conversion from physical to electronic formats.
In addition, BarnAllen can provide a range of organizational development capabilities. These services are particularly useful to our library clients contemplating the necessity to perform more work within tighter budgets, or competing for resources with other Agency functions.
BarnAllen has, as members of its Team, individuals with expertise in:
Workflow management
Work process design
Quality program development
Procedures development and documentation
Operational analysis